For the first time in Chicago, a group of young, enthusiastic spiritually motivated, fun-loving musicians come together to present the folk songs from West Bengal and Bangladesh in September, 2017. That was the beginning of "Ochin Pakhi" (অচিন পাখি).
https://sites.google.com/view/ochin-pakhi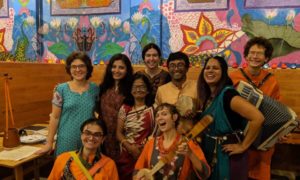 "Ochin Pakhi" is a Bengali phrase that translates to "The unknown bird" and refers to our heart. This phrase was first used by Lalon Fakir (Shah), a prominent Bengali philosopher, Baul saint, mystic, songwriter, social reformer and thinker, in one of his famous songs "Khachar Bhitor Ochin Pakhi" (খাঁচার ভিতর অচিন পাখি).
Our mission is to present songs with colorful melodies and eclectic rhythm from greater Bengal to the world. We are intensely collaborative to create a cross-cultural platform and love to share our musical passion with rest of the world. "Ochin Pakhi" is an endless journey of music with strong tradition, on one hand and going beyond all cultural boundaries, on the other.
We work on various forms of folk songs from West Bengal and Bangladesh. We play different kind of ethnic instruments of India including ektara, dubki, khol, tabla, mandira, bansuri, dholak, banjo and other drums.
The genres of folk song that "Ochin Pakhi" perform includes Rabindra Sangeet(composition of one of the greatest Nobel laureate poet and philosopher Rabindranath Tagore), Nazrul Geeti (compositions of Kaji Nazrul Islam, the national poet of Bangladesh), Baul (the traditional songs of a Community called Baul in Bengal), Bhatiyali (related to river of East Bengal), Jhumur (the basic melody of some part of South Bengal or North-East India), Patriotic folk songs and our own compositions.