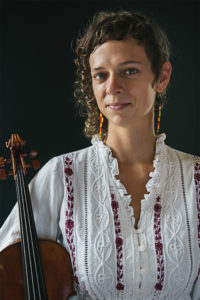 Mrs. Lucia Thomas was born in Oakland, California, and at the age of 6, began learning the violin. She completed her BA in violin performance at the University of Denver in 2012, but her artistic search did not end in Western classical music. Driven by a strong commitment to human connection, Mrs. Thomas bridges cultural divides with folk music, building on its age-old foundation of honoring human commonalities, challenging injustice, and celebrating everyday beauty.
Mrs. Thomas is founder and artistic director of the Chicago Folklore Ensemble, which aims to celebrate immigrant communities by gathering and performing oral histories and traditional music from master immigrant musicians. She has received three DCASE grants, a Puffin Foundation grant, and an Evanston Arts Council grant for several Chicago Folklore Ensemble projects: "The World in Chicago," music and oral histories from Argentina, Thailand, Ghana, Jordan, and Serbia; "Where Rivers Meet," music and oral histories from Egypt, Iraq, and Palestine; "Follow the Butterfly," a children's show of folktales and folksongs with environmental themes; and "Our Gitanjali," poetry and compositions of Bengali songwriter Rabindranath Tagore.
Following a collaboration with Bengali singer Subhajit Sengupta, Mrs. Thomas traveled to West Bengal, India, in 2018 and studied with sitar maestro Hindol Chattopadhyay. In 2019, she released an album with her band Baba Yaga's Stew, a nationally touring trio of women who play dance music from around the world. She is violinist with the internationally acclaimed Chicago Jazz Philharmonic and tours nationally with the award-winning playwright Rohina Malik.
Mrs. Thomas is a humble recipient of a Fulbright-Nehru Award. With this award, she is studying the way musicians and poets in West Bengal have utilized the power of music to connect disparate groups in the wake of an extremely violent partition. Collaborating with local musicians, she is recording an album of protest, popular, and folk songs, paired with a book of oral histories that presents a brief history of Bengal's 20th-century struggle for religious tolerance and understanding through the voices of its musicians.